Become a fan on Facebook

Follow on Twitter
Article by Mark Dujsik | December 31, 2010
Here are the ten best films of 2010: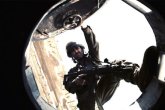 10. Lebanon
Save for the first and final shots of Samuel Maoz' claustrophobic vision of the First Lebanon War, the entirety of Lebanon takes place inside a tank. The machine is an impenetrable monster, but the men operating it are affected by what they see. The film claims no politics; there is no background of the conflict at hand. It merely observes horrors and the men participating in battle. There are four men inside, with the gunner (Yoav Donat), a compassionate soldier troubled by some of the actions he is ordered to do, as the entry point. Maoz, himself a veteran of the conflict depicted here, and his crew create the hellish environment of the tank, a dark, exhaust-filled, filthy, leaking, and oppressive place where tensions run high and sunlight blinds when the hatch must be opened—to house a dead comrade, to take in a POW, to receive a warning from their commanding officer (Zohar Strauss). Through the conflict are moments of humanity, including the film's climax, where a simple act of decency denotes a small but essential step in the right direction.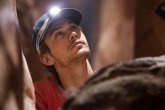 9. 127 Hours
Here is a grueling film about one man's incredible story of survival, trapped in a horrifyingly real, physical prison and another inside his head. There he realizes that, even with so many people in his life, no one knows his arm is literally stuck between a rock and a hard place. No one will come to help him. His life flashes before him—the people he will leave behind, the sense of self-perseverance that led him to his predicament. Part of 127 Hours is the ingenuity Aron Ralston (James Franco) employs to survive, and the rest is the representation of the internal motivation for him to do so. Co-writer/director Danny Boyle (working with Simon Beaufoy in adapting Ralston's own account) somehow culls a narrative about the necessity of others through an ingeniously portrayed fantasy/reality motif—mixing Aron's delusional state into his situation—in what essentially amounts to a one-man show. In that department, Franco commands an indelible authority of the overwhelming physical, emotional, and psychological toll Aron endures. So many films aspire to inspiration, but this is one to truly inspire.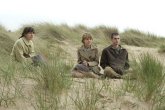 8. Never Let Me Go
Mark Romanek's meditative, lingering adaptation of Kazuo Ishiguro's novel does not let us off easy. It is science-fiction set in the past, not warning us where we could go as a civilization but observing where we have been and are. Never Let Me Go follows the people this society in alternate history have deemed unworthy of life for the benefit of others. This created class' experience is seen through the lives of Kathy (Carey Mulligan and Isobel Meikle-Small), Tommy (Andrew Garfield and Charlie Rowe), and Ruth (Keira Knightley and Ella Purnell)—deprived of even the identity of a full surname—as they move from an isolated boarding school in the English countryside to a boarding house where trips to town must be permitted and, ultimately, to their final fulfillment for the greater good. Screenwriter Alex Garland uses the cliché of the romantic triangle to instill a sense of familiarity with and the most basic humanity within these characters, as they traverse an insidious, rotten system designed to keep the truth from them and ensure they are the oblivious pawns in a no-win game.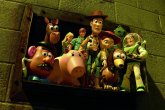 7. Toy Story 3
A fantastic conclusion to the beloved series, Toy Story 3 plays on our sense of nostalgia for the imaginative times of childhood and our connection to these characters we've grown to know and love since their revolutionary introduction 15 years ago. The story of cowboy doll Woody (voice of Tom Hanks), spaceman action figure Buzz Lightyear (voice of Tim Allen), and the rest of the quirky crew reaches its next logical step as their owner, now on the verge of adulthood, is about to leave for college. Through the mayhem of packing, the toys find themselves at a daycare center, ruled with the dominating, fuzzy fist of a tyrannical teddy bear (voice of Ned Beatty). The last entry introduces a bevy of other new characters, including a fashion-savvy Ken (voice of Michael Keaton), a gloomy clown who stares longingly into the night, and a hilarious cymbal-banging monkey that serves as one of many obstacles for the toys to overcome in their great escape. Director Lee Unkrich keeps the comedy as character-centered as ever, and the climactic scene of the breakout, facing the abyss of obliteration, is as unexpectedly powerful as their final playtime is poignant.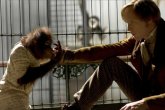 6. Creation
Creation never received its due. Relegated to such a limited release that critics in the United States overlooked its arrival as much as audiences, the film is the unfortunate victim of needless controversy, simply because, in theory, it deals with evolution. Director Jon Amiel's external shaping of Charles Darwin's inner turmoil makes for a powerful study of the loss of faith in the very notion of existence in the face of tragedy. Torn between faith and reason, politics and fact, Paul Bettany's anguished performance as the famous naturalist, who gave us what some have called the single, most important idea in human history, is a defeated man. Seeing visions of his dead daughter (Martha West), whose death he blames on himself, and certain he is failing his surviving family, including his devoutly religious wife Emma (Jennifer Connelly), Darwin tries to complete On the Origin of Species against professional pressure and failing health. The film is very much one about loss, but it is also about a man attempting to make sense out of a world he has begun to suspect is without. That process of adaptation to circumstance is, of course, also a form of evolution.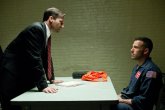 5. The Town
The men of The Town rob banks and armored trucks, not for the money, but because that is their job, and a job is a man's duty and honor. They live in the Charlestown neighborhood of Boston, which has the distinction of producing more such robbers than any other place in the country. In his sophomore feature, director Ben Affleck gets into the mentality of this way of life, both behind the camera and in front of it, playing Doug MacRay, the leader of a quartet of thieves. Pursued by Adam Frawley (Jon Hamm), the unrelenting leader of the FBI division assigned to their case, MacRay becomes involved with Claire (Rebecca Hall), a woman they took hostage during a robbery, and competes to maintain a clean slate against a wild-card of a best friend and near-brother James Coughlin (Jeremy Renner). Affleck, Peter Craig, and Aaron Stockard's screenplay (based on a novel by Chuck Hogan) is less concerned with the process of robbing banks—though there are some well-realized action sequences—than the reasons behind it. Confident and perceptive, Affleck is devoted to the film's characters and that hazy terrain of perceptions of morality against reality.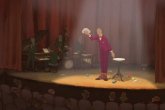 4. The Illusionist
Jacques Tati makes an unexpected return in animated form, as director Sylvain Chomet summons the screen comedian's unparalleled spirit in adapting this previously unfilmed script by the comic master. The Illusionist is the simple story of a traveling stage magician in the downturn of his life and career. He meets a young, naïve girl who believes his tricks are results of real magic and unintentionally bleeds his pockets dry; he cannot and does not want to stop her. Chomet fills every corner of each shot (typically long in terms of space and time) with activity, whether it's the busy rabble of an impatient, disinterested audience or the precise motions of the Illusionist's tall, sturdy frame, an uncanny imitation of Tati's own sparse but meticulous physicality. The ups (for her) and downs (eventually for him) of the relationship between the Illusionist and the young girl and the lives of those they encounter (Other struggling artists of different, tragic quirks in a rundown hotel) are far more complex than the mostly dialogue-free screenplay suggests. A joyful comedy of errors that becomes a devastating lament for lost dreams, this is a marvelous film. Welcome back, Monsieur Tati. You will be missed.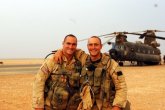 3. The Tillman Story
Anyone who says that The Tillman Story does the same type of symbol-making out of the death of Pat Tillman, the professional football player who put his lucrative and successful career on hold to join the Army Rangers nine months after September 11, 2001, that the film criticizes is, quite simply, in the wrong. Director Amir Bar-Lev could easily have assembled a polemic against military, political, and/or government institutions or the administration of George W. Bush, but he does not. This is simply lifting the veil on propaganda, which transformed Tillman into a patriotic icon. Here is Pat Tillman as a man who felt he wasn't doing enough for his country after that day in the fall of 2001, married his high school sweetheart, rode a bike to football practice, and read the Bible, the Qur'an, and the Book of Mormon without subscribing to any religion. He also thought the war in Iraq was "illegal" and died in Afghanistan, where he believed action was justified, in what was eventually revealed to be a friendly fire incident. Bar-Lev recalls Tillman's life in photos, videos, and interviews with his surviving family, who fight that this man's life and death, which has been misunderstood and manipulated by so many, might finally be seen in the light of truth.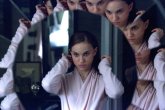 2. Black Swan
A delusional, nightmarish variation on the actor's nightmare, where, instead of being unprepared for a role, a performer is far, far too much a part of it, Black Swan is a representation of the dual nature of the performer—at once insecure and superior—as psychological horror. Featuring the best performance of the year in the form of Natalie Portman as Nina, a ballet dancer who has dreamed since she started dancing to play the White Swan in Tchaikovsky's Swan Lake, Darren Aronofsky envisions the common fears of the artist: eventual decay (Her body is falling apart), the intense self-awareness (The laughs and whispers of the other dancers are deafening in her ears, since, clearly, they are laughing at or gossiping about her), the dread of becoming irrelevant (Mila Kunis plays a possible rival dancer, who may or may not be trying to steal Nina's dual role as the White and Black Swans). Screenwriters Mark Heyman, Andres Heinz, and John McLaughlin fill the background with characters, like Nina's mother (Barbara Hershey) and director (Vincent Cassel), who could be villains but are merely acting in what they believe to be her best interest. It is Nina, though, and her drive for perfection that propel her eventual, inescapable destruction. Black Swan is a haunting portrait of an artist's mind unraveling.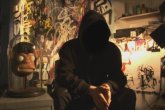 1. Exit Through the Gift Shop
Is it real, a hoax, or something in between? It hardly matters when the effort to pull off any of the available options is so intricate, and the result is so wildly entertaining and spot-on. Exit Through the Gift Shop, the debut feature from world-renowned street artist Banksy, is a triumph of subversive filmmaking—a film that at once sells the legitimacy of the street art movement while decrying those who would sell it—that convinces us to believe the hype by reminding us that so much of what's out there in the world of the hybridization of art and commerce is just that: hype. The film concerns Thierry Guetta, a most fascinating subject who adjusts his career from a shop owner who sells flawed clothing as "designer" pieces, to a "filmmaker" who knows how to use a camera (and does so obsessively) but does not know how to make a movie, to an "artist" who hires a team to create his works, which are wholesale, blatant derivatives of the designs of others. He follows various street artists—clambering up rooftops, hauling materials, and ducking cops—as they maneuver the "legal gray area," as Banksy diplomatically puts it, of creating art on public and private property.
The turns Guetta captures and Banksy and his editors assemble are so strange, the film must be true. They are so appropriate to theme, though, that it must be a phony. Whether it's legit or manufactured, it is pure brilliance, adjusting that eternal, unanswerable question of what constitutes art into the one that actually matters: Is it good art? Exit Through the Gift Shop is the best film of the year.
Special Mention: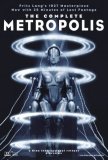 The Complete Metropolis
The promotional description of "complete" may not be wholly honest (This version is, according to its own presentation, still missing two scenes), but that does not make the most recent restoration of Fritz Lang's 1927 meld of folklore and political allegory against the backdrop of a dystopian, science-fiction world any less vital. The newly discovered elements, constituting almost 25 minutes of footage found on a 16mm print (They are entirely noticeable against the pristine renovation work on the existing materials) in Argentina, are revelatory. Metropolis is still politically and thematically naïve (and troublesome at times, given screenwriter, Lang's then-wife, and future Nazi Party member Thea von Harbou longing for a "mediator" to control the working masses), sure, but the story's simplicity works wonders in the context of the film's broad vision and archetypal characters.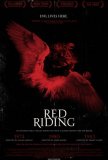 Red Riding (The Year of Our Lord 1974, The Year of Our Lord 1980, The Year of Our Lord 1983)
This sprawling indictment of police corruption in the West Yorkshire county of England is a massive, dense, and wholly fulfilling five-hour experience. Comprised of three separate films, shot by three different directors (Julian Jarrold, James Marsh, and Anand Tucker), and held together by a painstakingly crafted and exceedingly nuanced series of screenplays by Tony Grisoni (adapting three novels of a quartet by David Peace), the Red Riding trilogy weaves a byzantine labyrinth of sordid crimes and crooked cops. The films, originally aired on British public television in weekly installments, can be seen as separate entities but are best considered one, extensively structured view of how the unchecked evil of the individual becomes a systematic virus. So many victims with so many wounds, their scars may fade but will never vanish.
Honorable Mention:
Brooklyn's Finest, Cairo Time, Catfish, Chloe, Four Lions, Going the Distance, The Killer Inside Me, The King's Speech, The Last Exorcism, Rabbit Hole, The Secret in Their Eyes, Shutter Island, The Social Network
Copyright © 2010 by Mark Dujsik. All rights reserved.

Back to Home
---
Buy Related Products

---