Become a fan on Facebook

Follow on Twitter
Article by Mark Dujsik | December 26, 2014
Here are the ten best films of 2014: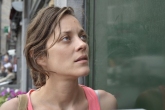 10. Two Days, One Night
Unless her co-workers vote against a bonus, Sandra (Marion Cotillard) will be fired. At a cursory glance, the choice—between money and another person's livelihood—appears to be a simple morality test, but if one presumes that the basic nature of humanity is good and decent, the revelation that Sandra's co-workers have voted against her will be disheartening. Two Days, One Night, the latest film written and directed by brothers Jean-Pierre and Luc Dardenne, isn't just about simple morality or the question, "What would you do?" The film puts the employees' decision to the test of reality, where people struggle financially, feel pressure from others to make choices they otherwise wouldn't, and are, sometimes, just plain selfish. The Dardennes sympathize with Sandra, but what's surprising is how much sympathy they pass on to the other characters. Sandra's weekend trying to convince her co-workers to vote for her may not sound particularly dramatic, but with the stakes the film establishes, it is plenty dramatic. We see patterns among the employees, and patterns are even more important in the film's incisive study of Sandra, a woman struggling with depression. Cotillard's tremendous performance of delicate variations elevates the material to another level of compassionate observation.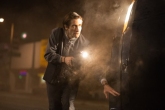 9. Nightcrawler
The question of Nightcrawler is not if this is where the news media is heading. The question is: Is this where the news media is? It would be comforting to see writer/director Dan Gilroy's debut film as satire, but there is too much real-world evidence of the sensationalism and tabloidization of the news to observe the film in that light. Gilroy localizes and specifies the issues, observing the cutthroat world of freelance "journalists" who specialize in bloody crime and accident scenes throughout Los Angeles. From there, we get the bigger picture. There's something rotten in the state of journalism, and the emblem of that rot is Louis Bloom, played in a daring, go-for-broke performance by Jake Gyllenhaal. Louis is a sociopathic petty criminal with dreams of making money in the quickest way possible. As the protagonist goes about finding and, later, causing gruesome scenes, Gilroy and cinematographer Robert Elswit (who captures the city in threatening and imposing shadows) have an ingenious way of simultaneously making us part of and separated from Louis' work. We start to think that only someone as extreme as Bloom could really thrive in this field, and that is the most frightening commentary in a film full of discomforting ones.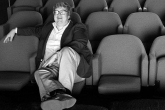 8. Life Itself
There's no denying that I have a bit of a bias when it comes to Roger Ebert, whose life and death are documented in Life Itself. Does that mean director Steve James' film about the most famous film critic to ever write about the movies shouldn't be considered for this list? Of course, it doesn't. This is an empathetic, affectionate, and, at times, shattering film that honors its subject through its candor. It gives us the high points (his professional rivalry/cooperation and rocky friendship with Gene Siskel, his marriage to Chaz, and his Pulitzer Prize—a first for a film critic), the cloudy times (his drinking days, highlighted by a strange Hollywood adventure), and the devastating but inspiring last chapter of Ebert's life. James even gives us a film that stresses the influence of Ebert's writing. The film's most extraordinary accomplishment, though, is how bravely it depicts the ravages of illness. Ebert was never shy about his health in his final years, and in scenes in his hospital room, he directs James to keep the camera running. The film was not originally intended to be an obituary, but as one, it is as honestly kind and kindly honest a tribute as anyone could receive.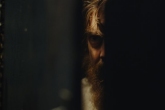 7. Blue Ruin
The characters in Blue Ruin run the gamut of how much the past has affected them. Even the film's most stable character admits that she's haunted by common sights that have come to symbolize that sometimes the bad people don't get what should be coming to them. Writer/director Jeremy Saulnier's revenge thriller begins where most movies in this genre end: The bad guy gets what's coming to him. The good guy is Dwight (Macon Blair), whose parents were murdered 20 years prior and who has never recovered. When the man who killed them is released from prison, Dwight gives him a bloody, undignified end in the filthy bathroom of a bar. That's when the murderer's family comes after Dwight to give him what's coming. This is ugly business, but the clever part is that Dwight knows what to do but isn't experienced enough to think through the details. Saulnier treats the material with deathly sincerity, but he's also not afraid to inject some mischievous gallows humor into the proceedings. The film portrays the difficulties of the particulars, the ease of success, and the ultimate pointlessness of revenge. There's something extraordinarily ordinary about the film's approach that cuts right through the thin skin of vengeance.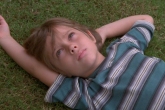 6. Boyhood
This 12-year production allows us to bear witness as a boy becomes a man. Boyhood, writer/director Richard Linklater's boldly experimental film, is all about the process of becoming. The conceit, in which Linklater filmed the same actors for over a decade, is a gimmick, to be sure, but an essential one, for here is also a film that captures the essence of memory. There are milestones in the life of Mason (Ellar Coltrane), who ages from 6 to 18 in a relative flash, but they take place off-screen. Isn't that how memory operates? Instead, we see the little moments, and while it's a cliché that the little moments are the ones that really matter, that's because it's true. Thanks to editor Sandra Adair, the film moves from one year to the next without any buffer. Time is marked by growth spurts, hair length, and the deepening pitch of the boy's voice. We are constantly watching the growth of these characters, who include Mason's divorced mother (Patricia Arquette, in a heartbreaking performance) and father (Ethan Hawke). They learn from positive experiences and mistakes in equal measure. As a result, every scene feels like the culmination of everything that has preceded it. Every moment is one of becoming in a world composed of life's momentous little things.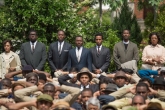 5. Selma
Everything is politics. That is the key lesson of Selma, director Ava DuVernay's incredibly intelligent and resolutely patient depiction of the buildup to the protest march from the eponymous city to Montgomery in 1965. It's not politics in the way the term has been diluted as of late to mean political parties, left and right, or other distinctions that emphasize conflict. It's the machinations, maneuvers, and mediations conducted on a private scale in church halls and the Oval Office, as well as more public displays through rallies and speeches. The film is comprehensive in its portrait of not only the moral necessity of the civil rights movement and legislation but also the practical need for them. The latter is summarized in an early analysis by Martin Luther King Jr. (David Oyelowo, giving a performance that encapsulates the spirit of that great man), tying together the lack of justice for African Americans in the courts with the Constitutional right to vote, hindered by Jim Crow laws. We get the full picture, from discussions with President Lyndon Johnson (Tom Wilkinson) to racism thinly disguised as "states' rights" on the part of George Wallace (Tim Roth)—from the FBI's involvement in King's personal affairs to the troubled but solid relationship between King and his wife Coretta (Carmen Ejogo). That the injustices shown in the film are still relevant today is a depressing commentary on our times.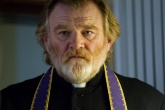 4. Calvary
Writer/director John Michael McDonagh's exceptional and exceptionally thoughtful Calvary is a stirring examination of faith. It primarily concerns a group of people who have the outward appearance of believing but have taken the notion for granted. Their actions do not reflect what they purport to believe. Among their company is Father James Lavelle (Brendan Gleeson), a good priest, who has been targeted to be murdered by one of his parishioners as an act of revenge against the Church for the sexual abuse the parishioner suffered as a child. The man gives James, who is targeted because he is good and innocent, a week's time to put his affairs in order. As James tries to determine whether or not to stay for his appointment with death, the film unfolds as a series of sincere and, at times, wickedly funny dialogues about faith, responsibility, moral decisions, the specific context in which those decisions are made, and, ultimately, forgiveness. Gleeson is the film's anchor, and his performance is one of weariness and frustration at constant battle with conviction and integrity. What McDonagh understands—and quite wisely—is that faith is not merely a matter of belief. It is one of choice and of making choices. In the end, there is only one choice that matters here, and it's not the one McDonagh establishes at the beginning. The powerful, unanswered question that lingers at the film's conclusion is left to us to decide.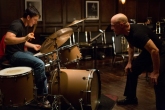 3. Whiplash
Damien Chazelle's Whiplash does not take talent and creativity for granted. It's a film about practice: the lonely hours refining a craft and the long nights rehearsing. Above all else, the film is about the passion necessary to devote oneself to this process. Here, the passion of a promising drummer named Andrew (Miles Teller, performing a delicate balancing act between intelligence and naiveté—in addition to the drumming) is either appropriately extreme or woefully misguided. He wants to be one of the greats. His teacher Terence Fletcher (J.K. Simmons, a prowling and ready-to-explode force) thinks Andrew could be, too, so the teacher starts a systematic process of torture and abuse to inspire the greatness in the student. Is the student a victim or a willing participant in a relationship that serves both men's interests? Chazelle leaves it to us to answer that question. In the process, he gives us a film with a keen knowledge of and wisdom about these characters and the world in which they have chosen to live. There's an urgent and palpable sense of Chazelle's need to tell this story that is thrilling (as is Tom Cross' rhythmic and dynamic editing). The story comes to a natural endpoint, but it's not enough for the writer/director. There are consequences to their relationship and a sense of mounting dread as a seemingly ordinary epilogue continues to evolve that relationship. At the end of the film, we're still dreading what's to come for these two characters.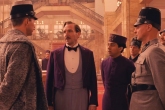 2. The Grand Budapest Hotel
Another storybook adventure from writer/director Wes Anderson, The Grand Budapest Hotel is also another display of why he is among the most unique American voices in modern cinema. His usual quirkiness is on full display, but so is his characteristically meticulous craftsmanship. The film is something entirely different from Anderson, though, even while the particulars are familiar. It reflects an artistic and philosophical evolution for the director. The story spans four eras (Anderson and cinematographer Robert D. Yeoman complement each period with the period-appropriate aspect ratio), starting with a present-day memento mori in a cemetery and moving back and back and back to 1932. Europe is on the brink of war, and in the fictional country of Zubrowska sits the eponymous hotel, represented in a dreamy mixture of paintings and models and automated toys. Within it, M. Gustave (a note-perfect Ralph Fiennes in a precise comic performance), the hotel's charmingly foppish and genteelly profane concierge, takes a young lobby boy (Tony Revolori) under his wing.
Inspired by the works of writer Stefan Zweig, the film is a smorgasbord of narrative concerns: partly a comedy of manners, a penny dreadful, a coming-of-age story, and an examination of geopolitical and intranational tensions. It's a comedy but an elementally somber one. The film is nihilistic on its surface (Gustave informs his apprentice that none of it matters), but even at his most pessimistic and elegiac, Anderson offers a film that is cheerily and intoxicatingly affirming. The film may end where it begins—where all stories must end—but the stories here endure, which is at least a comforting thought.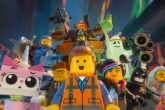 1. The LEGO Movie
Yes, I'm surprised about this, too, but in case there's any doubt, here it is again: The LEGO Movie is the best film of 2014. There are plenty of reasons to approach the film with skepticism, primarily its outward appearance as a lengthy commercial likely meant to "increase brand awareness." The end product, though, puts that skepticism to bed for 100 minutes of unbridled imagination, absurdist humor, pointed satire about consumerist culture, technical proficiency, and an attitude of "Anything goes." There's a simple story, featuring an ordinary character—a construction worker named Emmet (voice of Chris Pratt)—who reluctantly becomes a hero to fulfill a world-saving destiny. From that basic template, though, we get the constant sense of screenwriters/directors Phil Lord and Christopher Miller calling for more: more figures from popular culture and history who shouldn't have a place here, more silly things for them to say, more craziness in the world design, and, moreover, a pirate with a shark for an arm. Anything goes.
It's playtime for the filmmakers, whose love of these toys is only outdone by love for the ability to imagine just about anything and see it come to life. When we're not smiling or laughing at the assault of gags, we're astonished by the intricate level of detail to these worlds (Everything here has been "assembled" with the blocky toys) and how the computer animation uncannily simulates the jittery imperfection of stop-motion animation. There are so many disparate ingredients jammed together here (The film's climax even reveals an affecting emotional core that redefines events in a human context), yet the film finds an inherent order in the chaos. It's an exhilarating, absolute joy to watch it all come together.
Honorable Mention:
Dawn of the Planet of the Apes, Foxcatcher, How to Train Your Dragon 2, Interstellar, Jodorowsky's Dune, Last Days in Vietnam, Night Moves, Non-Stop, Nymphomaniac (Vol. I and Vol. II), The Tale of the Princess Kaguya, They Came Together, Wild
Copyright © 2013 by Mark Dujsik. All rights reserved.

Back to Home
---
Buy Related Products

---