Become a fan on Facebook

Follow on Twitter
Article by Mark Dujsik | December 26, 2015
Here are the ten best films of 2015: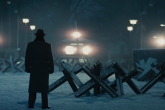 10. Bridge of Spies
Steven Spielberg, the ever-reliant cinematic optimist, might not seem like the appropriate choice to direct material as overtly cynical as Bridge of Spies, but Spielberg, the humanist, brings a level of empathy to even the most blatant of political movers and shakers throughout this dramatization of a curious episode from the Cold War. The story is about a principled man in a world of ideologues and power-seekers. It's two stories, actually. The first follows James B. Donovan (Tom Hanks, earnest and commandingly still), a New York City attorney, as he defends Rudolf Abel (Mark Rylance, communicating fear and melancholy behind his stone-faced exterior), an indicted Soviet spy, in a show trial meant to display the United States' moral superiority to the Soviet Union. The second story pits Donovan against Soviet and East German politicians and bureaucrats in negotiations to free a U.S. pilot. The stakes are incredibly high, but this is a game for everyone but Donovan. The screenplay by Matt Charman and Ethan and Joel Coen lets us see the threat and the absurdity of this situation, and Spielberg's attention to character adds a layer of lament to the proceedings—if only we could recognize how united we are in our foibles.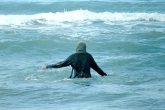 9. About Elly
While away on a weekend trip to a seaside lodge, a young woman disappears. None of her companions knows where she has gone. Has she drowned while trying to save a child, or did she run away from the place, putting the child in danger? The central mystery of writer/director Asghar Farhadi's About Elly is not what happened to this woman. That mysterious incident incites layers upon layers of tiny lies and major deceptions, as the group of friends and spouses tries to make the best of a dire and possibly tragic situation. They come to realize that they don't know anything about the missing woman, and they fear the worst, hope for the best, and guess at her possible motives. From there, they start to learn how little they actually know about people they have known for years. This is a simple story, but Farhadi imbues it with conflicts that arise naturally as the characters' beliefs about their companions or spouses are challenged. No matter what the woman's fate may be, there is only pain waiting at the end of this, and the film is devastating because the lies these characters tell to avoid that pain are necessary, useless, and dreadfully familiar.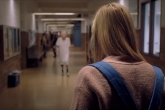 8. It Follows
Here's a horror film that doesn't resort to the cheap scare tactics or rely on blood and gore as a substitute for horror. It Follows is a horror film with a deviously simple conceit: There's a thing, and it will follow its target until it catches and kills the person. Writer/director David Robert Mitchell trusts the concept and follows the idea through to its necessary ends. From its enigmatic tease of an opening sequence until its sobering finale, Mitchell establishes a permeating atmosphere of the unknown, which remains even as we learn the specifics of the threat that is pursuing our heroine, a young woman (played by Maika Monroe) who also becomes the target of male gazing. The film's technique is as simple and effective as the conceit, with Mitchell and cinematographer Mike Gioulakis using long shots and takes, as well as spinning establishing shots, to keep us searching for the entity hunting the protagonist. It's a nearly relentless experience, although the film does take some respites, and those exhales from the tension provide opportunities to deconstruct the genre's more persistent clichés. They're clever and lend authority to Mitchell's understanding of the genre, but the proof of his command of it is in the execution.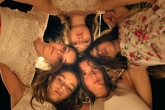 7. Mustang
A gossipy neighbor, who mistakes an innocent game for an act of sexual gratification, turns the lives of five girls upside-down in director Deniz Gamze Ergüven's debut feature. Mustang is the story of orphaned sisters living with their grandmother and their authoritarian uncle in a villa home in a remote part of Turkey. The adults believe the girls are destined for corruption, and after the sisters stage a clandestine outing to a soccer game, the uncle transforms the house into a prison, holding the girls in place until the grandmother can arrange marriages for each of her granddaughters. Ergüven and co-screenwriter Alice Winocour deftly balance beats of comedy and tragedy amidst an overarching sensation of righteous anger against the injustice of the situation. Underneath it all runs a current of mounting rebellion, led by Lale (Günes Sensoy, a most promising newcomer), the youngest of the sisters, who sees through the nature of conservative values transformed into oppression. As infuriating and destructive as this scenario is, there is something undeniably joyous in the fight, especially within the ironic climax, during which Lale shows how a prison can easily become a fortress. It's a film of overwhelming hope that freedom should always be sought and can be achieved.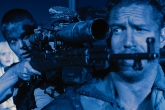 6. Mad Max: Fury Road
In terms of story, Mad Max: Fury Road is a chase film and nothing more. It's not a skeletal story. The screenplay by director George Miller, Brendan McCarthy, and Nick Lathouris scrapes away at the distracting tissue of a barebones plot until only the marrow remains. One party, which includes Max (Tom Hardy) and Imperator Furiosa (a commanding Charlize Theron), is on the run, and up to three other groups are in pursuit. Pointing out the plot's simplicity is not an insult. At a time when so many action movies overwhelm us with plot, here is a lesson in economical storytelling that defiantly takes the stance that less is more. This, of course, leaves Miller plenty of room to offer up more where it counts. In this case, though, it's not just more but more, more, more, more, and, for good measure, more. This is an action spectacle in which the action is genuinely spectacular, offering a robust combination of practical stunt work and digital effects in which it becomes impossible to tell the difference between the two. Words seem insufficient to describe the nearly non-stop barrage of carnage that follows. This is a film that repeatedly surprises us with how far Miller, his team, and the performers are willing to take this bold, ingenious thrill machine.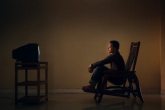 5. The Look of Silence
Adi, the man at the center of The Look of Silence, watches video of two men explaining how they brutally murdered Adi's brother, along with truckloads of suspected or actual communists from a nearby prison camp. We've heard stories like this one before in director Joshua Oppenheimer's The Act of Killing, which followed some of the perpetrators of the mass killings that took place in Indonesia between 1965 and 1966. In his follow-up/companion piece to that earlier film, Oppenheimer looks into those who were affected by that evil. Adi, who believes he notes some regret within the men who killed his brother, wants to approach some of the perpetrators, who have never been punished for their actions because the political system that orchestrated the killings is still in power. There's a dismal sense of dramatic irony to the proceedings, because we know Adi's goal of uncovering guilt from these men will be impossible. His endeavor is one not only of a great naiveté but also of tremendous courage. He looks at these men, who personally killed or oversaw the massacre of hundreds or thousands of political "enemies," and tries to convince them that they were wrong. They let us know, in no uncertain terms, that another mass killing is just a politically expedient excuse away from happening again. Like and perhaps more so than its predecessor, this film is an act of moral necessity.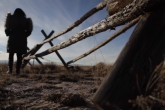 4. Matt Shepard Is a Friend of Mine
Director Michele Josue's first film is a work of raw, unfiltered emotion. Matt Shepard Is a Friend of Mine is as much about a filmmaker's search for answers as it is about the life, death, and legacy of the film's eponymous subject. It's the story of Matthew Shepard, who was viciously murdered in 1998 because of his sexuality, as seen through the eyes of someone who is still unclear about who her friend was, still in pain over the loss, and still confused about what his murder means in some grander scheme. We too often debate whether or not a documentary should strive for "objectivity." Here's a film that furthers the argument that subjectivity is not only unavoidable but also a means of uncovering truth. Josue does give us the "objective" side of things: interviews with family and friends, home videos and photographs of Shepard, and a breakdown of the crime and the subsequent trial of his murderers. It's not the general approach that matters as much as the specific pieces. Because Josue was Shepard's friend, though, the interviews are intimate and forthright, and she has access that perhaps an impartial observer would not. This is an emotionally wrenching film. If there is an answer here, it's that grief is a constant, and Josue fearlessly allows us to share in hers and offers a powerful glimpse into the grief of others.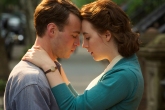 3. Brooklyn
A great, old-fashioned melodrama, Brooklyn has an attentive, unwavering focus on its protagonist, which turns this story into much more than a string of obstacles and conflicts. We're not watching a young woman encounter and endure a series of problems. We're watching that young woman learn from them and grow as a human being as a result. The film explores a simple but profound idea: that the best a person can achieve is to take control of the shape of one's own life. Eilis (Saoirse Ronan, in a phenomenal portrayal of gradual but unstoppable transformation), an Irish immigrant who comes to New York City to seek a job and a more fulfilling life, changes from a shy, unassertive woman who is torn between two worlds into one who is confident, able and willing to speak her mind, and more certain about what she wants from life. We're able to pinpoint every doubt she has and every decision she makes. There's also a genuinely romantic love story between the character and Tony (a wholesome and sincere Emory Cohen) that understands that people can be of different attitudes about a relationship while still being on the same page. The screenplay by Nick Hornby (based on Colm Tóibín's novel) respects and admires Eilis, and director John Crowley's film earns every moment of doubt, every minor triumph, and every tear of sorrow and joy. This is like some lovely modern fable—a warm embrace of a film, full of compassion, pain, and hope.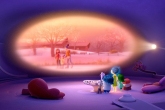 2. Inside Out
Inside Out announces itself as something special with its opening scene, as we witness the birth of consciousness within the mind of newborn baby girl. There's a flood of feelings and sensations unleashed by the scene, and perhaps the most notable one is how right it feels, as that newly formed consciousness takes on the form of Joy (voice of Amy Poehler) at the baby's first look at her parents. Here is a film that dares to envision the unknowable mystery of the human mind, while still finding a balance between creative playfulness and earnest concern for its characters—of the human and emotional varieties. Peter Docter's computer-animated film suggests greatness at the start and follows through on that promise, using the great enigma as a springboard to leap at possibilities, grasp at them, and take hold.
The film follows the escapades of the emotions within the mind of an 11-year-old girl who has just moved to a new city. The change causes some upheaval within the girl's mind, as Sadness (voice of Phyllis Smith) begins to take over the girl's every action and to tint her memories in melancholy. The film raises a multitude of questions that it doesn't care to answer, but it doesn't matter, because the film is so clearly enraptured with the possibilities presented in those questions. The film's capacity for inventing new spaces, based on such things as abstract thoughts and the subconscious, seems limitless, and as we come to know the workings of her mind, we come to empathize with girl who possesses it. This is a unique, enthralling creation of boundless energy and inspiration.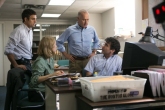 1. Spotlight
The tone in regards to the sex abuse scandal throughout the Catholic Church may have changed between the time it came to light and now, but that does not reduce the urgency of Spotlight, the best film of 2015. The story may dramatize the way the "Spotlight" team of the Boston Globe uncovered widespread abuse and a cover-up within the archdiocese's hierarchy, which helped to expose even more criminal activity and corruption, but this is also a film about the fallibility of systems that cannot live up to their lofty ideals. Director Tom McCarthy's film shows that too many institutions within the public trust—the Church, the justice system, and journalism, which is the film's central focus—failed in significant ways when it came to this scandal. The reason is simple: These systems may have pure goals, but they are run by humans, who are far from pure.
That's the bigger picture. The more specific one looks at the journalistic process with enough respect to delve into the particulars. McCarthy and Josh Singer's screenplay doesn't glamorize the profession. The work is arduous. The politics of the newsroom, the personal views of the reporters, and editorial decisions are as important as research and interviews. The film explores how the job and this story in particular affect these characters, who must contend with their own biases and the ethics of keeping this information secret until the story runs, and it approaches the horrific reality faced by survivors with an abundance of compassion. This is a vital reminder that our institutions have failed in the past and will continue to do so. It's also a prime example of the unmitigated good that can happen when one rises to the occasion.
Honorable Mention:
Amy, The Big Short, Creed, The End of the Tour, The Hunting Ground, The Last Five Years, Listen to Me Marlon, Love & Mercy, Mississippi Grind, Queen of Earth, Room, Sicario, Tomorrowland, Unexpected
Copyright © 2015 by Mark Dujsik. All rights reserved.

Back to Home
---
Buy Related Products

---